Contact Us
The Sullivan County Democrat is Sullivan County, NY's oldest and most trusted news source. Founded in 1891 and independently owned and operated by the same family since 1927, the newspaper is published in print every Tuesday and Friday (twice-weekly) and is a proud member of both the New York Press Association and the National Newspaper Association.
The Democrat is a general-interest, non-politically-affiliated community news source and is the official newspaper of Sullivan County and most of its 15 townships, 8 public school districts, 6 villages and a variety of fire and ambulance districts. We cover all of Sullivan County's 1,000 square miles and neighboring areas in Delaware, Ulster and Orange counties in New York and Wayne and Pike counties in Pennsylvania. The parent company is Catskill-Delaware Publications, Inc., based in Callicoon, NY.
Our main office's postal and physical address is P.O. Box 308, 5 Lower Main Street, Callicoon, NY 12723
For our Monticello office: 548 Broadway, Monticello, NY 12701
For ads and related matters, please visit our Advertising section.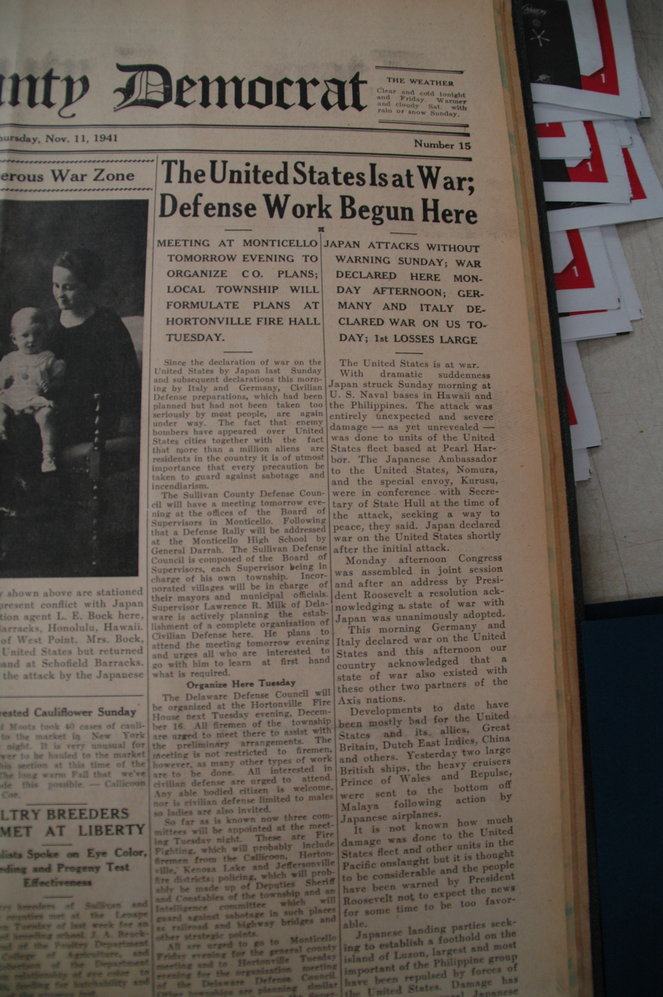 For subscriptions and newsstand issues: Subscriptions Department
For obituaries and Down the Decade submissions: obits@sc-democrat.com
For legal notices: legals@sc-democrat.com
For research, Almanac and worship listings: Assistant Business Manager Patricia Biedinger
For business matters: Business Manager Sue Owens
For coming events: Calendar Editor
For news and letters to the editor: Co-editor Matt Shortall
For sports and life: Co-editor Joseph Abraham
For general inquiries: info@sc-democrat.com
Or you can reach us by telephone at 845-887-5200 (Callicoon) or 845-794-7942 (Monticello)
Fax us at 845-887-5386
If you are out of town and would like to keep up with the news in Sullivan County, request your subscription here!